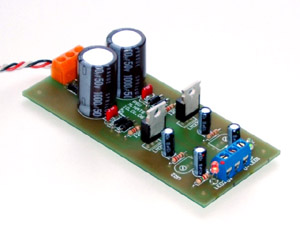 A Simple, Adjustable Voltage Regulator
Power a Dual 1176 or Just About Anything
The G1176 boards are a great one board (well, actually three board if you include the two switch boards) solution to building an 1176 clone. So if you want to build a stereo pair in one box you just stick two main boards into a single chassis, right?
Well, yes, but you'll end up building and buying parts for two power supplies as well since the PS is integrated into the main board (see the second image on my wiring page). So that means buying six big caps, two sometimes hard-to-find 24 volt regulators and a pair of half-watt 1.1k resistor that some people also find hard to source.
So when I built my dual 1176 clone I made a little supply to power both units. Using a completely standard circuit, the dual regulator is built on the LM317 and LM337 variable voltage regulators. It uses standard, easily available parts.
BILL OF MATERIALS
Item
Quantity
Label-Value
Component
Designation(s)
Note(s)
1
2
GRN, RED
LED 3MM
LED1,LED2
Optional indicators
2
2
5k TRIM
TRIM POT
VR1,VR2
Optional (in place of R3, R5)
3
2
1000uF/50V
ELECT. CAP
C1,C2
4
2
120
RESISTOR
R4,R6
5
8
1N4004
RECTIFIER
D1,D2,D3,D4,D5,D6,D7,D8
6
2
100n
MONOLYTHIC CAP
C3,C4
7
1
LM337
V REG
U2
8
1
LM317
V REG
U1
9
4
10uF/35V
ELECT. CAP
C5,C6,C7,C8
10
1
2.7k
RESISTOR
R3
CALCULATED VALUE
11
1
840
RESISTOR
R5
CALCULATED VALUE
12
1
390
RESISTOR
R1
CALCULATED VALUE
13
1
1500
RESISTOR
R2
CALCULATED VALUE
Note: all resistors 1/4 watt or better.
The above calculated values are for a +30/-10 volt supply suitable for a pair of 1176 boards. Use the closest available values for the voltage setting resistors R3 and R5. Or use optional trim pots VR1 and VR2 instead of R3 and R5 for a variable supply or to be able to precisely set the voltages to any level (including the +30/-10 needed for the 1176)! LED current setting resistors R1, R2 are for the +30/-10 volt supply. If you are using different output voltages you should calculate the correct value for R1 and R2 for the typical voltage on each output.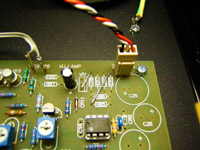 Here is a picture of where to add two wire jumpers to be able to use the original AC power header as the DC input for the little PSU.
Note the orientation of the input wires - positive to the far right, ground in the middle. You must wire the polarity correctly or at best your compressor won't work and at worst you'll end up destroying some components.